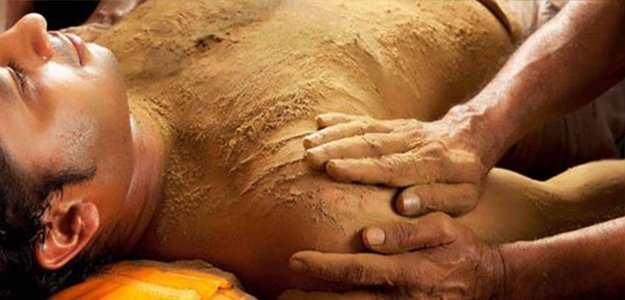 Udvartana is a special therapeutic deep tissue massage using herbal powders. This massage involves upward stroking, where the powder is rubbed forcibly on the body. The main benefit of the Udvartana is to remove toxins through the skin. However, Ayurveda doctors mainly recommend it for reducing excess cellulite and fat accumulated under the skin. It also tones the skin and provides strength to the body.
Procedure:
The herbal powder is warmed by heating. The massage is done in the opposite direction to hair follicles by two therapists. The procedure is performed in seven postures. After completion the person is advised to take rest for 30 minutes, followed by a shower with warm water.
Benefits:
Udvartana tones and exfoliate the skin, reduces fat tissue and weight, makes skin radiant and glowing, improves skin complexion, removes bad body odor, removes toxins and cleanses the skin.
Cellulite Reduction & obesity - Udvarthanam (Udvartana) is very effective in reducing cellulite and fat accumulation. Overweight people can also get benefits from this technique to control their body weight. Rubbing herbal powder helps breaking down the cellulite and increases the burning accumulated fat.
Abdominal Fat Accumulation - You have a loose skin on arms, thighs or buttocks or if you are suffering from abdominal fat accumulation, then Ayurvedic powder massage is very efficacious in this situation. It helps to reduce subcutaneous fatty tissue and cellulite. It reduces body weight and assists other weight loss therapies.
Rheumatoid Arthritis - Udvartana (powder massage) reduces KAPHA and AMA. In rheumatoid arthritis, AMA is a main factor, so it is beneficial for reducing symptoms and inflammation of the joints. In some cases, rubbing the herbal powder with pressure can increase pain, so rubbing should be gentle and perform under the supervision of Ayurvedic physician. Ruksha Udvartana is more beneficial when stiffness with feeling of heaviness is the main symptom as compared to joint tenderness. If joint tenderness with redness is main symptom, then Snigadh Udvartana is more beneficial.
Body Stiffness - It removes body stiffness and helps to open blocked pores of skins. It facilitates absorption of beneficial oils in skin.
Increases Skin Glow - If you are a woman suffering from some nutritional problems and their effects appear on your skin or you have lost skin glow, then Ayurvedic powder massage will help to improve skin glow and complexion. Opposite direction stokes that are performed in Udvarthanam help to soften and exfoliate the skin and remove the dead cells from the skin. It gives you a beautiful and lustrous glow on the skin.
Removes Toxins - It is one of detoxification ayurvedic therapies, which cleanses the body and removes bad body odor. Udvarthanam removes AMA or toxins from the body. It helps to prevent various diseases, which are caused by accumulation of toxins.
Exfoliates the skin - Ayurvedic powder massage tones and exfoliates the skin, removes the toxins and prevents skin diseases.
Improves Blood Circulation - Ayurvedic powder massage improves peripheral blood circulation.
Revitalizes the Touch Sense - Herbal powder massage, Udvarthanam revitalizes the touch sense.
Stress Reduction & Rejuvenation - It can be used for stress reduction and rejuvenation.
The dry powder massage is useful in the following conditions:
Motor Neuron Disorders
Parkinsonism
Muscular dystrophy
Multiple sclerosis
Hemiplegia
Sciatica
Rheumatoid arthritis
Cerebral palsy
Skin diseases
Diabetes mellitus
Obesity
Disclaimer: * Outcomes may vary from person to person